Home / International SIM Card / OneSimCard Universal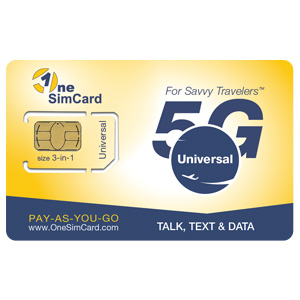 OneSimCard Universal
$39.95
$29.95
~45.05 AUD
Includes $10 Credit for Voice, Text and Data
Buy Now
3-in-1 SIM size - Mini, Micro and Nano Sizes
Includes 2 numbers: Europe & USA, Canada, UK or Australia
4G services in 50+ countries; 5G available
Direct dial in 50+ countries and callback dial in other countries.
Add numbers in 60+ other countries
Coverage in over 200 countries
Discount packages available
Voice mail service with free delivery to email
Free incoming calls received on EU number in 120+ countries. Outgoing calls from 25c/min
Live Technical Support
*Free shipping to the U.S. on orders over $50
*Free shipping to Canada on orders over $100
International shipping from the U.S. from only $4.99
Overview
Tech Specs
Shipping
In The Box
What Is The OneSimCard Universal International SIM Card?
It's your passport to low-cost prepaid cell phone service while traveling around the world. OneSimCard Universal global SIM card is a small electronic chip which when inserted into an unlocked GSM cell phone enables the phone with international mobile service.
The OneSimCard Universal SIM card is designed specifically for international travelers who:
Want inexpensive international cell phone service - Voice, Calls and Data around the world, including in the USA and Canada
Want to keep their domestic cell phone number while also having one European number (and an optional local or toll free Second Number) no matter which country they are in
Already have a unlocked GSM or 3G phone
Here's how it works: The OneSimCard Universal global SIM card comes pre-programmed with both a European and North American, Australia or UK number. In addition to the EU number, you will be offered a free optional 30 day US, Canada, Australia or UK number ( PEN - Personal Extra Numbers ) when you activate the SIM. You can keep your U.S., Canadian or other phone numbers by forwarding them to your PEN.
If you do not already own an unlocked GSM phone, you should consider purchasing an international cell phone bundle from OneSimCard.
To learn more about the differences between international SIM cards, visit our FAQ section.
What Customers Say
We consistently strive to offer our international SIM card customers the best possible experience. This includes providing friendly customer support, fast product shipping, improving our products and services, decreasing the cost of mobile services, and affordable pricing. But don't take our word for it, here are some real, verified reviews that our past customers have left about OneSimCard.com


© 2006-2023 Belmont Telecom Inc., DBA OneSimCard.com. All rights reserved